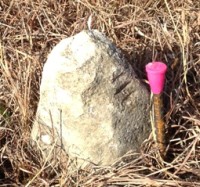 Geotech, Inc. offers a full range of Land Surveying services; from support services for design professionals to attorneys, contractors, buyers, sellers and lenders. We combine ancient principles with modern technology for truly professional results. There is no substitute for over 40 years experience in the area.  Let's discuss your reasons for contacting us so that we can provide services that are truly "tailored to your needs." What you think you need may not be the best solution for your concern, problem or issue. That's why we ask a lot of questions!
When buying or selling land, we should be one of the first to be contacted instead of one of the last.  We offer advice that goes way beyond just surveying. Put all that experience to work for you in all phases of land transactions.
Physical Location: 115 W. 5th Ave., Emporia, KS 66801 We're just one block south of Business US 50 (6th Avenue) and 1½ blocks west of Commercial St. (K-99), on the south side of 5th Avenue, on the alley. Find us at: N38°24"13.3″ (38.4037°) W96°10"56.0″ (96.1822°) Our Primary Service area includes (but not limited to) the following Counties: Lyon, Chase, Marion, Morris, Coffey, Greenwood, Wabaunsee and Osage Cities include Emporia, Americus, Marion, Hillsboro, Strong City, Cottonwood Falls, Council Grove, Lebo, Allen, Olpe, Admire, Reading, Neosho Rapids, Hartford, Eureka, Gridley, Madison, Eureka, Matfield Green, Council Grove, Peabody, Osage City, Lyndon, Burlington, Burlingame, Hillsboro, Florence and all rural areas in between!
Voice: 620.342.7491 or 620.342.7495 FAX: 620.342.6722 Postal address 115 W. 5th Avenue, Emporia, KS 66801 Electronic mail: General Info/comments: geotech.emporia@gmail.com  Steven S. Brosemer: sbrosemer@geotechinc.net
Steven S. Brosemer, owner, is the son of his mentor, the late James H. "Tony" Brosemer, KS RLS #82, whose memory guides us in all that we do.  This commemorative brass disk can be seen on his grave site marker located in the SW corner of the Florence, KS Cemetery, just 2 blocks north of US 50 Highway on Marion Street, which is across (north) of Williams IH Service.